Sunrise Swim Spa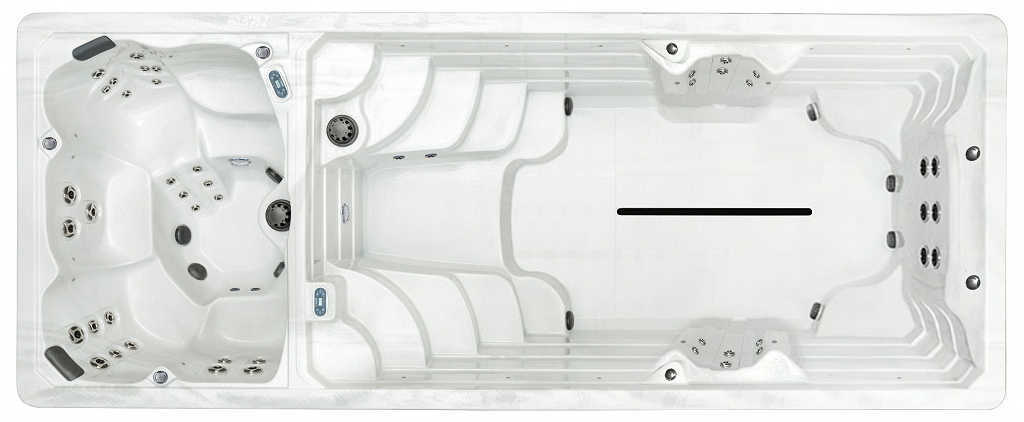 From £13,995. Heat pump and solar water heating options installed £795 to £4,995
The SJE-1900dz combines the best of both worlds with a swim spa and a family sized hydrotherapy spa all in one!
Go for a workout in the swim spa and cool down in the hydrotherapy spa with the JetSwim SJE-1900dz.
Features six cascading lighted water spouts, 20 points underwater lighting, two main lights, two headrests, an ozone system and two 3 Hp dual-speed jet pumps, two 4.5 Hp single-speed jet pumps and one 3.5 Hp single-speed jet pump powering the 6 swim jets and 41 hydrotherapy jets.
Dimensions
227" x 92" x 55 5/8"
579cm x 232cm x 140cm
Water Capacity
9,179 Litres / 2,425 US Gallons
Jets
6 Swim Jets
Swim Side: 12 Hydrotherapy Jets
Spa Side: 29 Hydrotherapy Jets
Swim System
Jetted
Filtration
Swim Side: 50 sq ft
Spa Side: 50 sq ft
Heater
Two 3 Kw
Jet Pumps
Swim Side: One 1.75 Kw Dual-Speed
Swim Side: Two 2.27 Kw Single-Speed
Spa Side: One 1.75 Kw Dual-Speed
Spa Side: One 1.58 Kw Single-Speed
Electronic Controls
Digital Control System
Dry Weight
2,475 lbs / 1,122 kg
Cover
Thermal Cover System
Cabinet
Synthetic Cabinetry
Structure
Heavy Duty Support Structure
Cascading Lighted Water Spouts
Standard
Under Water Lighting & Main Lighting
Standard
Cabinet Sconces Perimeter Lighting
Optional
Bluetooth Audio System
Optional